How to make toilets and bathrooms accessible
Disclosure: This site is a participant in the Amazon Services LLC Associates Program, an affiliate advertising program designed to provide a means for sites to earn advertising fees by advertising and linking to Amazon.com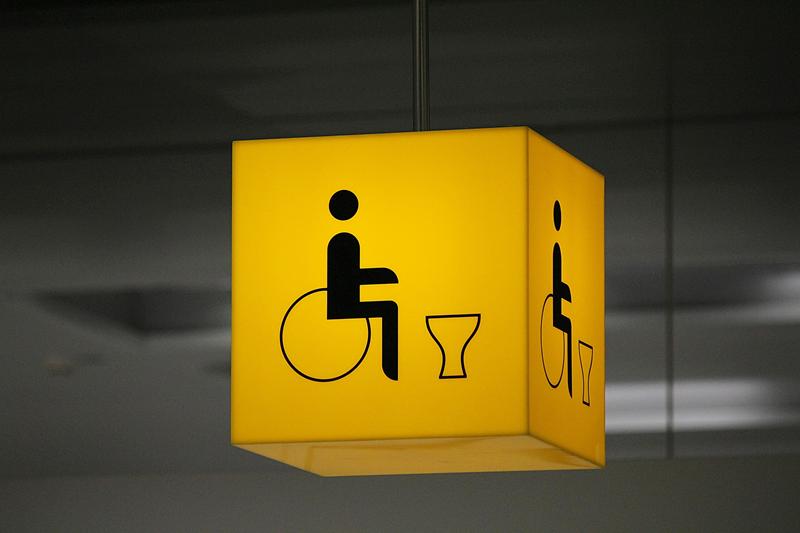 The following guide contains information to help people make toilets and bathrooms accessible for people with disabilities. I hope that it helps whether you're designing a house or commercial property.
Commercial properties
If you're in the United States of America the Americans with Disabilities Act require you to have at least one accessible toilet.
If you can only manage one accessible toilet then it's best to make it unisex as some people may feel uncomfortable going into toilets for the opposite sex.
This guide may also be useful if you're in the accommodation industry and offer accessible rooms. We also have a separate guide on hotel accessibility.
Door way
For commercial bathrooms the Americans with Disabilities Act require doors to be at least 32 inches but a width of 36 inches is optimal in my opinion.
A flat entrance to the toilet is best.
I use a custom chair so someone puts it into the bathroom and I walk to my chair. You might want to consider a door stop as I think that it would make it easier when leaving my wheelchair outside.
The door shouldn't open into a narrow hallway. There should be enough space for people who use wheelchairs to close the door.
The door shouldn't be locked unless it's in use.
The pathways that lead to the door also should be accessible.
Room size
I think that the total room size should be at least 60 square inches to allow people in wheelchairs to enough space to move around.
Toilet
The height of toilet bowl should be 17 inches (430 mm) at least. This is measured from the floor to the top of the toilet seat.
Flush controls
Flush controls should be hand operated or automatic. For manual controls they should be mounted on the wide side of the toilet area. You should also ensure that they can be easily reached and operated.
Grab bars
Grab bars are helpful on one side of the toilet and behind. Get a grab bar at Amazon.
Sink
Sink tops should be mounted no higher than 34 inches from the floor.
To allow for people who use wheelchairs to put their knees under the seat the space under the sink should be at least 29 inches high, 30 inches wide, and 25 inches deep.
Hand dryer
There should be a hand dryer and it should be able to operate without a person putting their hands on it. Get an automatic hand dryer at Amazon.
Shelves
The A.D.A. has the following information:
The height of shelves should be a maximum of be 48 inches (1220 mm) above the floor and the low side reach shall be a minimum of 9 inches (230 mm).
The distance from the person to the middle of the shelf should be 21 inches (535 mm).
Changing table
A height adjustable changing table is helpful. It should be big enough to change an adult.
Shower
For a full bathroom a wet area without a lip is much better for wheelchairs I think.
The shower curtain must be easy to pull so the curb shouldn't be too high.
Assistance in an emergency
For toilets in a medical facility or rest home they may want to consider a pull string or call button so people can request assistance if they need it.
Thanks for reading!
I hope that this guide gives you the information you need to help you with bathroom accessibility.
You can also view our accessibility guide for houses/apartments.