How to make houses and apartments accessible
Disclosure: This site is a participant in the Amazon Services LLC Associates Program, an affiliate advertising program designed to provide a means for sites to earn advertising fees by advertising and linking to Amazon.com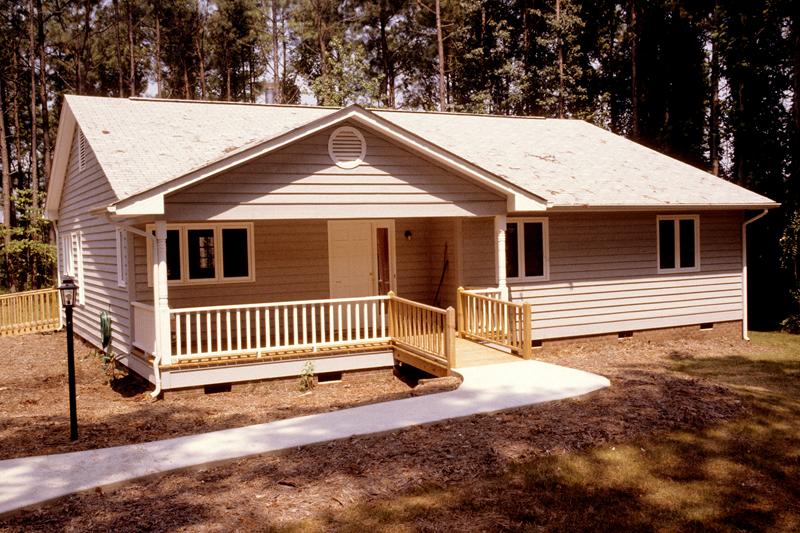 You can use our guide to help design a new house or assess what needs to be modified in an existing one. Most of the guide could apply to apartments too.
Parking
The easiest option would be have a fairly large driveway.
If a large driveway or garage isn't possible it's a good idea to have accessible parking spots close to the entrance. Typically they're at least 96 inches (2440 mm) wide.
If you're designing an apartment complex then you may want to put a wheelchair symbol on a blue background on it to make accessible parking spots easier to see. Some people get out of their vans through the side; to accommodate them you can have at least one spot of 132 inches beside an area that's also 60 inches wide. This recommendation comes from the Americans with Disabilities Act.
Entrance
A flat entrance is best however a ramp with a bar beside it could be an accessible option too.
A portable ramp for wheelchairs might be an option if you don't have the freedom to change the entrance.
I think that the path to the entrance should be concrete and 32"-36" inches wide.
Doors and hallways
The width of the entrances should be a minimum of 32" but 36" would be ideal.
Easy to pull levers can be a great accessible option.
You should ensure that the direction of the door does not hinder a person's ability to go through it.
Thresholds shouldn't be more than half an inch. I prefer doorways don't have thresholds are best.
Similarly width of the path ways should be 32"-36". This includes hallways and the space between objects if people are walking or driving past them. I believe that flat path ways are best when possible.
Light switches
To ensure that switches and thermostats are accessible to wheelchair users they should be installed no higher than 42".
It's a good idea to place outlets lower, but 15" should be the minimum height above the floor.
Color contrasting
To assist people with color blindness you may want to properly do color contrasting. This means objects and surfaces that they sit on should be a completely different color. The same also applies to doors and their door handles.
Tables, counter tops and shelves
It's good if tables are table tops are at least 28 to 32 inches high with a minimum width of 36 inches. These should have clear space under it to accommodate people in wheelchairs.
The Americans with Disabilities Act has the following information on shelves:
The height of shelves should be a maximum of be 48 inches (1220 mm) above the floor and the low side reach shall be a minimum of 9 inches (230 mm).
The distance from the person to the middle of the shelf should be 21 inches (535 mm).
Bathrooms and toilets
I have written a separate article on how to make bathrooms and toilets accessible.
Kitchens and dining rooms
I have written a separate article on how to make kitchens and dining rooms accessible.
Bedrooms
You can get beds that move up and down. This might be a more accessible option for some people.
Ensure that the dresser and its draws are in easy reach of the bed. You would also want to have all objects frequently used during the night in easy to reach places to prevent people from having to look for items in the dark.
Home Automation
A home automation system such as Echo can help you control devices without touching them.
You can purchase the US version of Echo. You can also purchase an international version of Echo if you're outside the United States.
Echo uses the Alexa system to control items around your home.
When purchasing electronic items such as TVs you would check to see if the equipment is compatible with Alexa so that you can control them with your Echo.
Stairs
While I don't consider stairs to be accessible, if your house does have them you can get a stair lift to help some people with mobility issues use them. This might not be a good solution for everyone though.
It might be worthwhile to design the house so that the most accessible room(s) including one bathroom are on the ground floor.
You may want to have a grab bar going up stairs as this can be helpful for senior citizens and some people with mobility issues.
Grab bars
Smaller grab bars may be helpful in places people regularly sit. Perhaps you can have to one in the bedroom and a few in the lounge. Get a grab bar at Amazon.
Visual smoke alarms
If there are people hard of hearing you might want to consider a visual smoke detector.
Thanks for reading
I hope that you have the information you need to make a house or apartment accessible.