Advocacy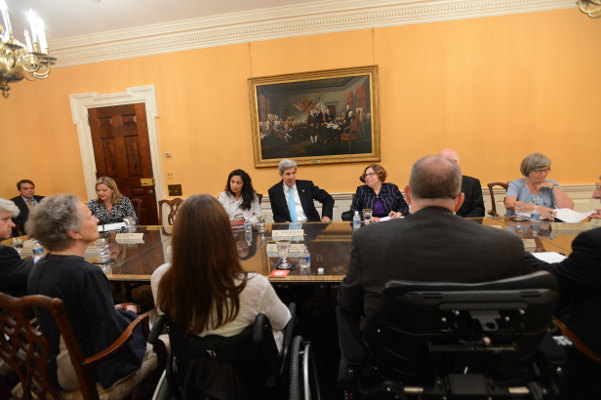 Recruiting advocates
If you are wondering why there are so few disability advocates at meetings you may need to recruit advocates to your cause. If the organization's staff is unable to get disability voices this is your opportunity to step in. Doing so might help you earn bownie points with the organization at the same time plus your recruits may be more likely to help with your projects within the organization.
The best places to start are other advocacy groups. Keep in mind people can't be everywhere but you may find some interested people.
You could even find and join additional groups to recruit people into your cause. Obviously don't join solely to recruit and you should make time for the extra group.
If you think that your cause is important enough you can ask friends. You could gather a few and go for drinks afterwards; you could also ask work colleges if you work with people with disabilities.
Some organizations have a newsletter; some may let advertise other meetings in them. It is good if you can tie it to content and integrate the details. The same goes for online blogs.
The organization itself may need some tips on advocates. If they already have a Email list and Facebook page tell them to consider a Facebook group too. It allows members to more easily bring up issues with each other. Encourage them to advertise meetings in all places possible.
Also be sure that they notify meeting attendees of future sessions and make the meeting as fun and productive as possible.
Advocacy in the digital age
Advocacy and spreading information has rapidly changed in the past 20 years due to the popularization of the internet. We can get ideas out almost instantly whether the ideas are good or bad. You can reach hundreds or even thousands of people with little or no cost.
You don't necessarily need a website; it is possible to conduct a campaign entirely on Facebook. YouTube is another platform that you can use to if video suits you, many people suppliment this with a website or Facebook page. If you do want a website there are options that are relatively cheap.
Getting attention is also essential. Many social networks allow you to pay for advertisements. If you have a regular website a popular option is Google AdWords and want to reach a specific group of people.
You can also use social networks to direct people to your main website. It is also a good idea to optimize your website for the search engines and have share links so people can share your easily content on social networks.
If you don't have thousands of followers that's no problem. Disability publications will often publish work from their readers, some will even pay you.
There's also Reddit. I have personally posted a stand up comedy videos there and received 3,000 views. A good idea is to direct readers to your website so they can follow you through social networks or a newsletter.
When appropriate you may want to try to target more mainstream media to expand your reach. Some people with disabilities don't read disability media and some have friends who will notify them of things relevant to them. Many mainstream publications would be happy to have disability related stories.
You don't have to be creative but it helps. You can write a blog, or create the next Ice Bucket Challenge.
Getting messages out there
In this age you need to grab attention for your cause. Typically this has been done by going to malls as this is seen as a good way of getting donations from strangers. Ensure that you ask people if they know anybody affected by your cause as you might be able to recruit them your email list.
Online advertising such as Google AdWords or Facebook Ads are an alternative but generally do no work well unless you target correctly. Targeting also enhances the echo chamber effect. If your goal is to reach new people, this will probably only work if you have an unique campaign.
If you want to grab people's attention online your best option is trying to create a viral video. This can work on low budgets if it is humourous.
The best site to upload a video to is YouTube then you can use Facebook and Twitter to share it. Outline the concept before you start, check it with a few people. This will ensure that it is the right concept to get the attention that you want.
Just because you are a nonprofit organization that doesn't mean you have to play it safe. Sometimes you have to be bold, humourous and/or provocative to raise awareness to your cause. If a strategy is effective go for it. The internet means that you can reach more people than ever but it also means there is more causes trying to do the same.
Sometimes you need to stand out, but to avoid publicity blunders you should check with people in your organization if what you are doing is OK, alternatively acquaintances if you are the organization.
Getting different perspectives
In the disability community everyone is different. It is worthwhile to get other people's perspectives and ensure that they are represented in your projects. People who are engaged will better support what you are doing and spread your work around.
People are most aware about their own issues, so if you want to make your project accessible it is a good idea to get a wide range of views. Something is not accessible to everyone is not really accessible at all. There are different types of impairments: mobilty, visual, hearing and more.
Contacting the people shouldn't be very difficult. You can search the web for disability organizations and email them ask for volenteers. Alternatively you can pay disability issue consultants or offer them a free sample in return for giving feedback.
Beyond products and services, people need representation. If they are not properly represented people don't get aware of their issues and their issues are less likely to be solved.
Governments in particular should do their best to be inclusive of everyone. Some people grow up with a wheelchair symbol not representing their type of disability. While there are bigger issues; if we can quickly solve this problem for them then we should.
Achieving unity
An obstacle to gaining rights in the disability community is the fact that we are divided up into groups. There's organizations for people with Cerebral Palsy, blind, deaf and numerous others.
Some say that the different groups help to divide and rule by governments. Others claim people that experience disabilities do an excellent job of dividing ourselves up.
It is essential that solutions to this problem are put forward. One option could be having a separate organization or committee made up of representatives of each organization plus additional members of the public. This could be a way of talking to each other and working together where appropriate.
While we will always have separate issues and views we could collab on things like disability awareness campaigns meet with organizations together. Meetings with organizations could be conducted with a single representative of the group; useful if multiple organizations have small concerns and want to group them.
The disability community is 25% of the population but split up into countless different ways. Working together would enable us to work on joint campaigns and make us a stronger force.
Initiatives to help disability organizations doesn't necessarily have to cut into funding. Work on this could be crowd funded volentary and/or communications done completely online.
Together we can forward issues more effectively. This is simple and can be achieved.
Being productive
Some people think that disability advocates could be more productive. Some may view disability issues meetings as "talk fests" and shut themselves off from the advocacy community.
I don't think that this approach serves the community well as it means that fewer people are involved in disability advocacy which makes the movement weaker.
Some people may think that many disability advocates focus on the wrong things and things that are less important. People are sensitive different ways; what's important to them might not be important to the other person.
I would suggest that people try to steer organizations towards more critical issues but also let others focus some of their time on issues that may seem less important. This will ensure that disability issues are taken action on in a productive way.
You may also want to try to suggest different formats for meetings. I went to a meeting once and wondered whether people talking at separate tables is a good use of time since much of the information that was discussed wasn't going to be communicated with the rest of the group. I know that it is about getting the most important points of views from a variety of people but maybe trying different models for meetings would be worthwhile.