Travel tips for people with disabilities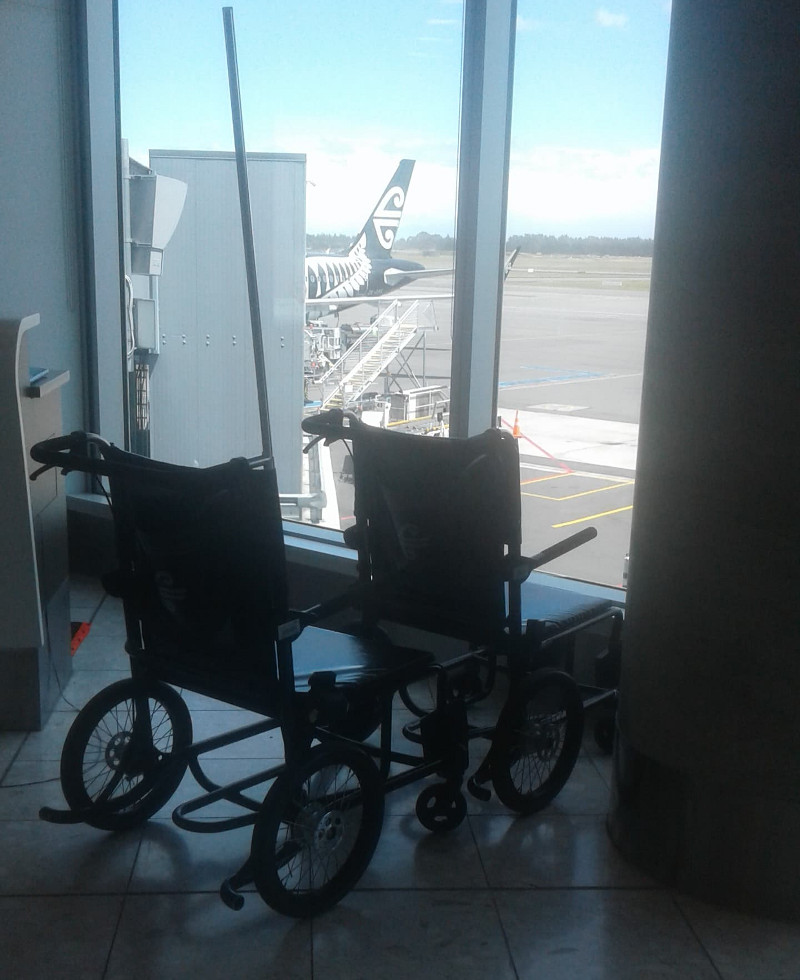 I travel frequently, mostly domestically but sometimes internationally. I am in a wheelchair and cannot talk. I am a New Zealander who has been to the United States, China and Australia.
In this article I will share some travel tips for people with disabilities.
Choosing a destination
Some destinations are more accessible than others. For example in New Zealand I find that small towns are less accessible than the three major cities.
In the U.S. red states can be less accessible than blue states. While the U.S. has the Americans With Disabilities Act something it is not enforced in some states.
In my experience bigger cities are usually more accessible than smaller cities in developed countries.
Developing countries can sometimes have major accessibility issues. I was told not to take my electric wheelchair to China because it would be too difficult.
I would avoid small towns and developing countries. A portable ramp for wheelchairs may help if you do travel to those places.
Contacting people with disabilities and disability organizations in the areas might be a good way to find out about accessibility issues.
Airlines
If you're using a wheelchair you may want to notify the airline as they usually have limited space in the cabin.
If you're travelling with other equipment or an assistance dog you may want to tell them that before booking a flight.
I try to stick to a specific airline. If you find an airline with good service you may as well stick to it if you can.
I also see many complaints for another local airline. Before going with an airline you may want to search the web for complaints about the airline.
It is important to note that all airlines would have complaints but some would have more than others. Contacting local disability organizations for recommendations could be an option.
If you are booking connecting flights ensure that there's at least 90 minutes before flights to give you enough time to transfer.
It's probably best to choose an aircraft that does boarding via an airbridge if you can't get up stairs. In New Zealand these are usually jets. If it's really windy and you're not boarding through an airbridge it's possible you won't get on.
Some airlines will let you check in a bag for equipment at no cost. You can use this bag for a toilet chair that breaks down and/or charger for your wheelchair. This is not guaranteed so check with the airline to see if they allow this free of charge.
Airport accessibility
You can find most maps of airports online. Looking up the maps could be helpful if you want to know where the accessible toilets are in advance.
It's common to arrive at the airport two hours before a domestic flight and three hours before an international flight.
If you have trouble walking long distances ask for a wheelchair, one will probably be provided to you.
Airports are usually very helpful. Don't hesitate to ask the staff for assistance if you need help.
It is rare that the staff doesn't push electric wheelchairs but this can happen if it's too heavy. My advice would be to suggest two people push the wheelchair or get an attendant control.
You are usually the first one on the plane and the last one off. This may not be ideal depending on what you are doing at the airport. If you are eating at the airport or enjoy premium lounges you may want to arrive early.
Usually you can go up to the gate in your wheelchair but other wheelchairs should be available when you enter the airport; you may have to ask the staff if you prefer to transfer sooner.
You may have to tell someone how to break mobility equipment down and move it if those things are not simple.
If you want your wheelchair delivered at the gate when you arrive this should be an option. I meet the wheelchair at the luggage as I find meeting it at the gate takes too long. If meeting it at the luggage you would probably be better off getting escorted downstairs and have someone look for the wheelchair.
Wheelchairs can sometimes get damaged in the process. Make sure that you tell the staff handling it that's it's fragile and any recommendations you have.
Airlines usually ask the same question every time. You may want to have the answers to common questions written down for the staff to see if that's easier for you.
I have the option of going in one of the airport's wheelchairs before my flight but I don't do this. If I did this I couldn't use my computer as efficiently due to my wheelchair's mounting system. Sometimes I transfer to an isle chair when boarding.
Airports have rooms with lots of windows and this interferes with my eye tracking system. I have to find a shaded spot in the airport.
Picking an accessible area
If you think that transport will be a problem for you try to get accommodation close to the venues you want to visit. This works best if it's no problem for you to travel on footpaths.
Google Map Street View may assist you in investigating how accessible an area is.
If noise is a problem you may not want to be in a place on a busy road. I was in a hotel in China on a busy road and it was very hard to sleep. Ear plugs helped a bit.
Accommodation
I think that it's best to let the accommodation provider know of your disability beforehand, even if you have indicated that you want an accessible room on the booking form. You may want to contact them when you book (or before for best results) and a few days before you arrive. You may want to get what you've told them back to you in an Email to assess if they have a record of the requirements.
Again if you find something that you like it's probably best to stick with it if it's possible.
Accommodation accessibility
Some motels have had lips to the rooms where as hotel room entrances are usually flat. One motel that I stayed at also had no downstairs room available so I had to stay elsewhere.
Some hotels have narrow hallways and lifts. Drop off zones are usually available at hotels but sometimes this isn't the case and you have to cross a busy road.
Some people who use wheelchairs may find sliding doors in motels easier rather than self-closing doors in hotels.
If you have low or no vision you will probably need a staff member to take you to your room. You could ask to be guided around key places on the property too.
Just because a place says they're accessible doesn't mean that they have an accessible kitchen, they may only mean the bathroom. Sometimes places that say they're accessible don't even have an accessible bathroom. Again it's best to contact the place and discuss your requirements with them.
Sometimes in hotels they close the accessible entrance at certain times and you have to ring the company to open it up. I think that this is a bad policy and an accessible entrance should be available 24/7.
Some hotels require a card to be used for going up the lift. The problem with this is if you are not mobile and want to have someone in your hotel room your carer would have to go down and let them in. This is definitely not preferable.
If you use a wheelchair sometimes you or someone else have to rearrange the room so you have enough space to move around.
Some people sleep best at certain temperatures and if that's important to you then ensure that you get a room with air conditioning. I was stuck in a hotel in China without air conditioning. I wouldn't want to repeat that experience.
Communicating with the staff
If you cannot talk or are hard of hearing you may want to get an Email address or text number so you can contact them. Ensure that they're checking the messages constantly. Perhaps they have messaging on social media platforms and you can ask about this if you find these platforms easier.
Accommodation providers should have staff trained in sign language but I don't know how common this is.
Most places would have staff who will read your screen and type things out to communicate back.
Transport
Taxis for the area are probably available for major cities, especially when booked in advanced. For some cities taxis on demand are not a problem, but you may not be so lucky in other places.
You might want to contact a taxi company in the area that you're travelling to and see if you should book in advanced. You may want to check if you need to book in advanced to get a taxi in the early hours of the morning if you think you will be staying out that late.
Public transport may be accessible or it may not. It depends on the city. I wouldn't rely on it unless I knew about how accessible it was before booking the flights.
If taxis or accessible public transport are unavailable you could hire an accessible vehicle. This will probably have to be booked in advanced of arriving at your destination.
Road trips
You may want to find accessible toilets on something like Google Maps before you go if accessible toilets are important to you.
A bigger vehicle can fit more equipment but would be more costly to run.
Sickness when travelling
If you frequently get sick when travelling get somebody to sit beside you to assist you if you need it.
Sleeping on long-haul flights or road trips
If you have trouble sleeping on long-haul flights and road trips ask your doctor if you can take sleeping pills. You may want to avoid looking at screens an hour or two before you intend to sleep.
Ear plugs could possibly help.
Accessible tourist attractions and events
You may want to find out in advanced which places are accessible. You could do this by contacting disability organizations in the area or the locals.
Some websites about the area may have information on accessible tourism or you could find entire websites devoted to accessible tourism about the place that you're travelling to.
Many venues would have accessibility information on their website.
Contacting the staff of tourist attractions in advance could be possible for some places. You could do this to see if tourist attractions or events will let a companion in for free.
In many places travel agencies and tour companies exist that cater to people with disabilities. Search the web using your favorite search engine.
Beaches
If you like the beach and use a wheelchair you could possibly hire a wheelchair better suited for it.
Wheelchairs
If something does happen to your wheelchair then maybe a bike shop could help if it's just a simple puncture.
It's possible that your wheelchair may not work at all on the trip. This happened to me one time.
Luckily I got to use another person's chair but I imagine that not many people could do this.
Plugs
If you use an electric mobility aid (such as a scooter or electric wheelchair) then plugs could be different in your destination country. You'll need an adapter for it to work. The same is true for assistive communication devices and hoists.
Assistance dogs
Some countries are strict on what they consider assistance dogs. To avoid stress make sure that your dog is a breed that's allowed into the country.
Some airlines and accommodation providers have extra fees if you have a service dog. It would be best to ask about such fees prior.
You may want to have a note from your doctor with you stating that you need a service dog.
Equipment
It's possible that you'll have fewer pieces of equipment on holiday. You may have to work out if you can survive without equipment or if it can be rented at your destination.
Forms
Sometimes you have to fill in forms when going away, especially when travelling internationally. If you have trouble reading or understanding forms I expect that you can ask for assistance.
Documentation from doctors
You may want to get a letter from your doctor stating that you have certain needs. I don't do this but it can be helpful to some people.
Travel insurance
It's better safe than sorry. If you don't get travel insurance with medical cover it could cost you thousands of dollars or more.
You will need a plan that accepts people with pre-existing conditions. You might need to disclose information about your disability. Don't underplay your disability as it gives them a reason not to pay.
Medicines
Normally you will have to disclose medicines to Customs.
You might want to take double what you need as pills might get dropped or you might stay than planned.
How to make enquires for recommendations
To make enquires for recommendations you could contact disability organizations in the area that you want to travel to. Alternatively you could join Facebook groups for people who have disabilities in the area and ask in there.
Opportunities to travel
People with disabilities typically earn less than others so opportunities to travel might be fewer.
Travel costs can double if the person requires a carer.
People in wheelchairs often can't use cost saving measures such as staying with friends.
Certain positions from organizations may come with travel perks. Ensure that you are happy to do the work.
Artists sometimes get travel opportunities. I was once a comedian and I occasionally got travel opportunities. To be an artist that travels you need to be good at an art form and be comfortable with people viewing it. We have additional tips for artists.
Airline perks
If require a carer you will probably have to pay for two people so I think that you're disadvantaged by frequent flyer programs.
This is also true if the airline charges for premium lounge access but hopefully some will let carers in at no cost.
If you enjoy the premium lounge, boarding the aircraft early could be a disadvantage. If you get to the airport early, this may help you have more time.
Thanks for reading
I hope that this helps you. Please consider sharing this page on social media.